Bespoke wedding rings are increasingly popular with couples who are about to swear eternal love.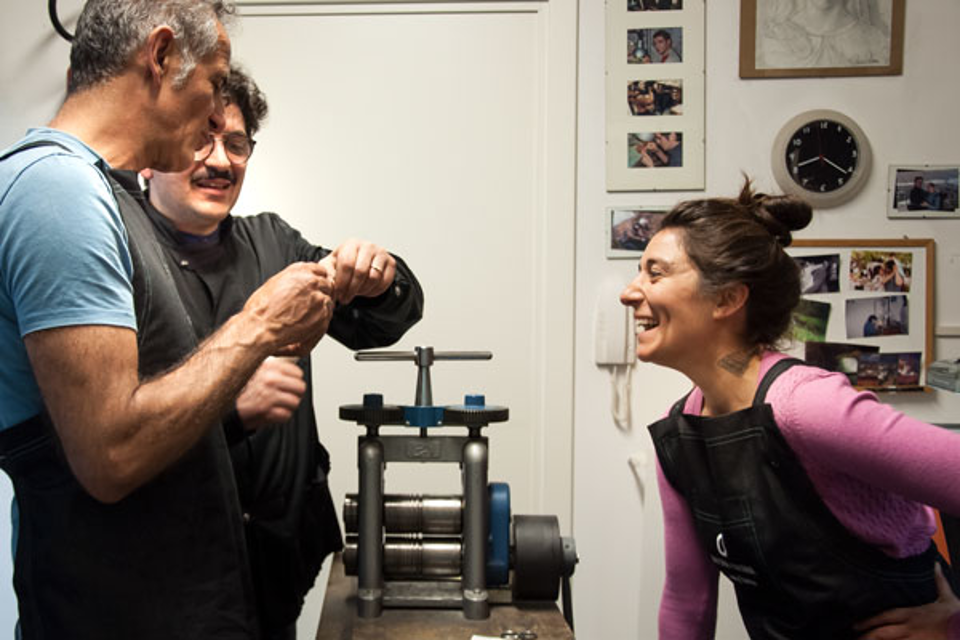 I wondered what was the driving force behind this desire, what I could have done to make such a profound moment as the choice of rings. And here is my answer.
ORAFI FOR A DAY, A UNIQUE WAY TO ACHIEVE CUSTOMIZED FAITHS
Goldsmiths for the day is primarily the result of a mechanism of identification that is triggered whenever a couple crosses the threshold of my laboratory. Identifying with the Other means interpreting their needs, fantasies and expectations. Ask yourself questions. What prompted customers to turn to me? What are they looking for? What can I do to please them? Finally, take responsibility.
To engrave in the memory the various phases of this experience, to make them become part of a fairy tale. That of future spouses. All this, up to the delivery of wedding rings that adhere to the wishes of the couple not as a simple article, but as a symbol of immortal love. But that doesn't mean getting in front of customers. But on their side. To observe from their own point of view the ideas to which they tend and reach them together.
A shared journey immersed in a magical atmosphere that, step by step, leads the couple who is preparing for marriage to a horizon in which they will find their bespoke rings, a gift that will reflect Love, Passion, Beauty, indelible moments past, present and future. Not a product, but an emotion carved in eternity. All this is goldsmiths for a day.
WHAT ARE THE STEPS OF THE ORAFI EXPERIENCE FOR A DAY?
You are wondering what happens during the day's goldsmith experience. What makes it unique, to transform it into a real symbolic ritual. There is an awareness born of a sentence by the Sardinian writer Agostino Degas.
"Everyone thinks of accumulating objects and things, forgetting that the purpose of life is to put together emotions, smiles, happy moments ...".
A consideration that I find enlightening and that adheres perfectly to the concept of goldsmiths for a day. Faiths are not a thing. They don't have to be. And this because it is the emblem of a priceless good like Love. Intangible feeling, which almost seems to hide, but which is also there. Everywhere. However, it must be mentioned. And here's goldsmiths for a day. Experience that transforms an object into a symbol, aesthetically different for each couple, but with common unique denominators: Beauty, Incanto, Poetry, Excellence. That is, craftsmanship.
With the caveat that I will dedicate a post to this topic, here are the phases of goldsmiths for a day, in which the couple makes their own wedding rings together with the master goldsmith. There are some surprises waiting for the couple.
Hospitality,
Presentation of the activities (by the way, in those who have ever witnessed the merger live;))
The couple is wearing overalls. From here on they will work side by side with the goldsmith.
Measurement of metals for the gold alloy in 18 kt.
Preparation of the crucible and the casting mold for metals.
Casting of 18 kt.
Modeling of the two rings. Cutting, welding, finishing.
Delivery and packaging.
The couple leaves with the rings.
Moments that are experienced in an intimate and reserved environment: during a day of goldsmiths the workshop is exclusively available to the couple. The experience is open to any type of couple: love knows no age and sex. Only emotions.
WEDDING AND THE ORAFI EXPERIENCE FOR A DAY: BROWSE THE CREATIVITY OF THE COUPLE
Goldsmiths for a day are also looking for inspiration. Not as an idea imposed by the artist, but as the result of a creative journey shared with the client, an itinerary within which a relationship of total transparency is created, not of trust tout court, between the goldsmith and the couple.
Each will leave with a satisfaction. The couple with the rings that will symbolize their union, the master goldsmith with the knowledge of having tattooed them a feeling. And something that has no matter can only be engraved in an invisible area. The heart.
The experience of goldsmiths for a day is dedicated to couples and is part of the wider Jewelery Experience. Want to know more about J.E.? Call or ask for information on bespoke jewelery without any commitment. I wait for you!